Strongblade Crusader Review
By Avery Pierce Harmony NC
Preface
First I would like to preface the following review by saying that the price point for this sword is well below the sub $300.00 mark. Strongblade is a relatively new manufacturer and their swords are not in anyway comparable to an Albion or A. Trim. At a price of $149.00 US, tempered and unsharpened, it truly is a case of value for dollar.
Blade Specs:
Overall length 40"
Blade length from guard 32 ¾"
Blade width at guard 1 ¾"
Blade width 5" from tip 1 ¼"
Fuller length 15 ¾"
Fuller width ¼"
Handle length 4 ¾"
Cross guard width tip to tip 7 ¾"
Weight 2lbs 4oz
P.O.B. 7 1/1" from cross guard
C.O.P. 14" from cross guard
Blade materiel tempered high carbon steel
Introduction
After seeing Krieg's review of the "Strongblade Death Bringer", and how quickly Roberto responded to the issues it uncovered, I was impressed. I thought it over for a couple of days, then I put in a call to Strongblade's customer service. Originally I was interested in another sword, but their website offers little information about the swords themselves. It listed the weight, but not the blade length, or width. The young lady I spoke to wasn't sure she could answer my questions so she asked if she could have someone call me back. Within an hour I got a call from…..you guessed it, Roberto. Following a long conversation about the company itself and what they offer, I changed my mind an opted for the "Crusader". Roberto was as honest about answering the questions as he could and told when he wasn't sure. I went ahead and placed my order on Monday and received the package on Thursday.
History
The Crusades were a series of religion-driven military campaigns waged by much of Christian Europe against external and internal opponents. They were fought mainly against Muslims, though campaigns were also directed against pagan Slavs, Jews, Russian and Greek Orthodox Christians, Mongols, Cathars, Hussites, Waldensians, Old Prussians, and political enemies of the popes.[1] Crusaders took vows and were granted an indulgence for past sins.[1 (taken from wiki.)
The crusader sword is one of the most easily recognizable swords of the period. Swiftly carried by the fervent crusaders into battle, swords of this type were not only a symbol of strength, but also of faith.
Initial Impression
The box was delivered via UPS as pictured below.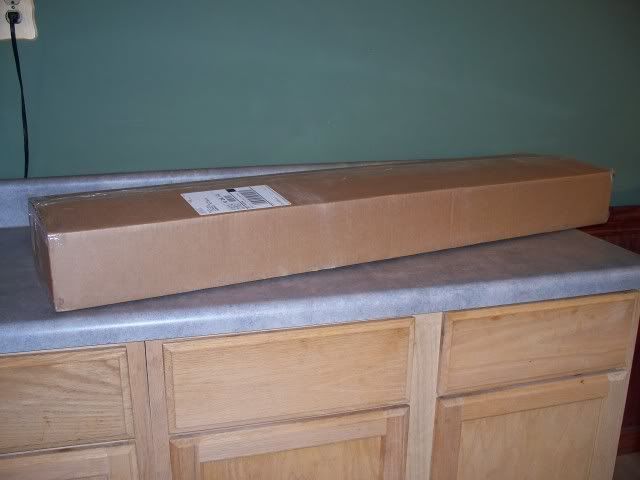 After opening the box, I found the sword under two layers of bubble wrap & packing sheets.
The box contained the sword, which was zip-tied securely to an interior box, a sheet with a quick history of arming swords, a package of cleaning supplies.
The scabbard was securely taped to the inside of the interior box.
Hilt Assembly
Both the pommel and the cross guard are nickel plated steel. The cross guard has a nice width, which tapers cleanly to it's rounded edges. The only displeasing thing about this crossguard is the gap between the guard and the blade on the top, but the guard fits tightly, as the gap does not penetrate all the way through. The pommel has a deeply grounded cross with a few blemishes around it's edges, nothing major and really not an issue for a sword of this price.
The handle is a leather wrapped piece of wood with cord underlay placed evenly along the length.
The stitching that binds the leather is also even, with a frayed edge here and there, again nothing major. All in all, the hilt assembly is about what I'd expect for a sword in this range. Actually a little more than I'd expect as the hilt is assembled by a threaded tang and retention nut that did not rattle in the least, and was a pain to disassemble.
Blade
My first impression upon unpacking the sword was how heavy this sword is, specifically how blade heavy. With a blade length of 32 ¾" and a P.O.B. of 7 1/8", you can get an idea of how it feels. I took the sword down to my shop and immediately disassembled it. I wanted to get a look at the tang/shoulder marriage just to be sure there were no issues. I unscrewed the pommel and began to unscrew the retaining nut.
Whoever screwed this rascal on cinched it down with what I would guess to be his whole body weight. It doesn't appear that any lock-tite was used, once I got it off the threads were clean of any debris. The tang looks well centered with plenty of "meat" on both sides. Once side is ground slightly more than the other, but this is a common occurrence of swords of many price ranges. Satisfied with the overall structural stability, I reassembled the hilt and took it outside to get a good look at the blade and the twin fullers. The sword is offered either untempered, or for a little more money, tempered. It also comes unsharpened but since I intended to sharpen it for some cutting I chose the tempered version. Sighting down the length of the blade, I could see various hammer waves but the edges flowed into the tip with no deviations. The polish on the face of the blade is even with a brush mark here and there, though it's not real noticeable unless you're scrutinizing.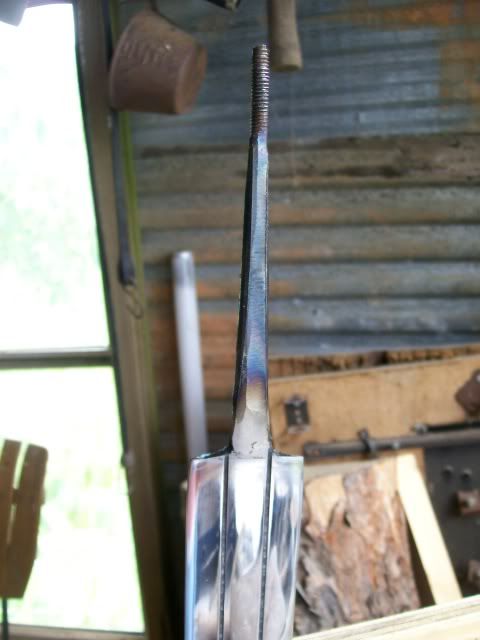 Again, at this price point, I'm not going to be very critical. The twin fullers appear to be chiseled in with some discoloration in the bottom. The fullers are straight and even through you can tell they were by hand by the punch marks and variable depth of the fullers.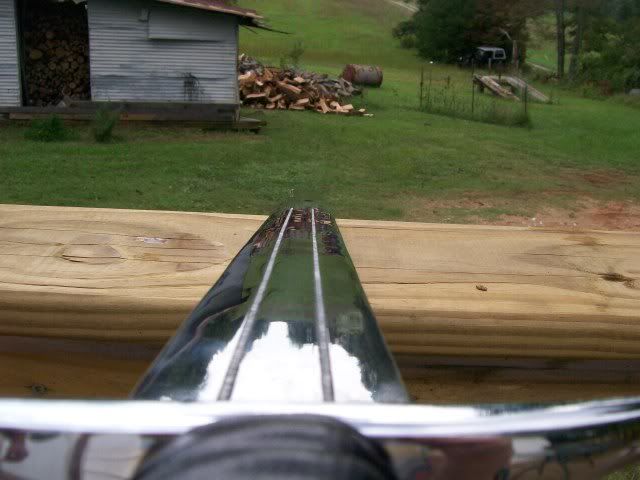 The blade has no distal taper which would account for some of that "blade heavy" feel. Taking some test swings I knew this heavy S.O.B. would wear my arm down quickly.
The blade is very stiff and a lot of pressure had to be applied to test the flex. The blade always sprung back to true as the pictures show.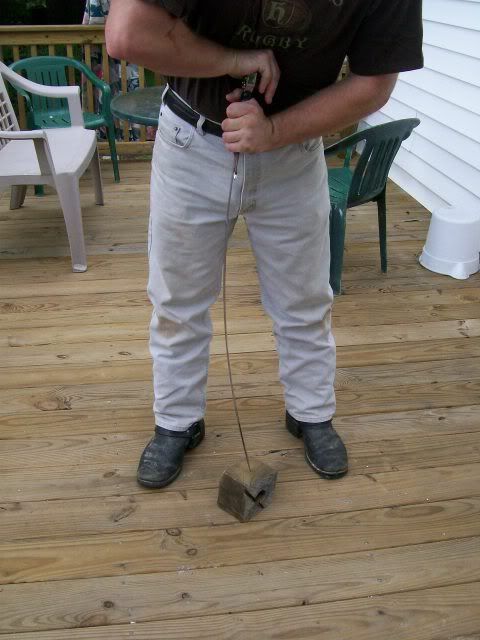 Test Cut
As I've said earlier, this blade only comes unsharpened. I went back down to my shop and began the sharpening process. I spent about a hour per edge, close to four hours total. Once I had my edges rough sharpened, I Finished it off with sandpaper and I had an edge that would cut paper. Afterwards I went out to fill some water bottles. I had no concerns about cutting through them., my concern was controlling the swing. The blade being so heavy I really don't think a person could sustainably fight with it for an extended period of time. I thought I would do a few one handed cuts until my arm wore out, then I would hold the pommel for some two handed cuts.
1 - Two 2 liter bottles
2 - 20oz bottle
3 - Gatorade bottle
4 - Water bottle ontop of 2 liter
5 - Milk jug Jab and Cut
6 - Water bottle on top of milk jug
I tried to let the blade do most of the work while I tried to control the angle. It didn't take long for my shoulder and wrist to start tiring, but I must say, after sharpening, I never felt the need to hold the pommel.
Pros
At a low price point, this blade is easily affordable.
The tempered steel takes an easy edge.
Close enough to historical accuracy for costuming.
Solid beater.
Cons
I consider this sword to very blade heavy.
As of right now strong blade doesn't offer a sharpening service for this particular sword.
The pommel gets in the way a bit when swinging.
Conclusion
While I would not recommend this one to someone as a first "functional" purchase, it has it's good points. A hand forged, tempered sword for around $149.00 USD is definitely worth a look for someone willing to do a little work. I would call this one a solid beater that could withstand some heavy impact, if you can control it. I'm not sure "a diamond in the rough" would apply, may be more like a piece of impacted, compressed coal on the verge of being one. As for Strongblade as a company, they appear to be constantly growing and trying to improve their products. I am looking forward to seeing what the offer in the future.