The men of Dale and Laketown are rarely depicted by tolkien in word or text. He describes Bard with a simple "Grim" and no mention are made of his clothing. This is of course quite typical of Tolkien, so nothing new. But it means we have to go to his other sources, the drawings and paintings made in watercolour. Here we find greater luck, as he has depicted four, or perhaps five of these men of Lake-town.
These, are certain men of Esgaroth.
But what are they wearing?
I'll be starting from the right, with the oarsman in the end of boat.
Oarsman #1
(I remade him)
This man screams authority. he is wearing a jacket lined with beaver or squirrel, with decorative bands. His fastners are similar to the ones of Bilbo. It is dyed with strong Woad.
The undertunic is short, dyed with woad and likely of thinner fabric.
He also has a Skjoldehamn hood, made out of gray Wadmal, to protect from hard weather. Maybe it is inspired by the ones the Dwarves wore? Or maybe it's the other way around.
The trousers are of thorsberg design, fitted with woven bands at the calves. The fabric is dyed with woad.
I like the idea of the cap being a status symbol, showing that this man is part of the elite, maybe part of the Guard?
It is stiffer then the rest, felted and stiffened with a leather and linen under-cap. It might also serve as protection, maybe a low iron skullcap could be worn under it. There is a decorative bronze dragon to top it off.
Oarsman #2
This man was easier, it is quite clear that he is wearing a cape, maybe a bocksten cape?
Under that ive chosen to put a tunic with short sleeves, instead of having him wear a sleeve-less one. You can see two small markings on the arm, which i took as a sleeve.
Ive put him in a pair of trousers, similar to the man on the raft. The wrappings are just there because it looks great.
Shoes are like the raftsmans shoes, low and quite pointed ones.
The cap is very different from the ome the first oarsman os wearing. It is much more like a felted, or perhaps naalbound one. Perhaps something like this, with a taller pipe?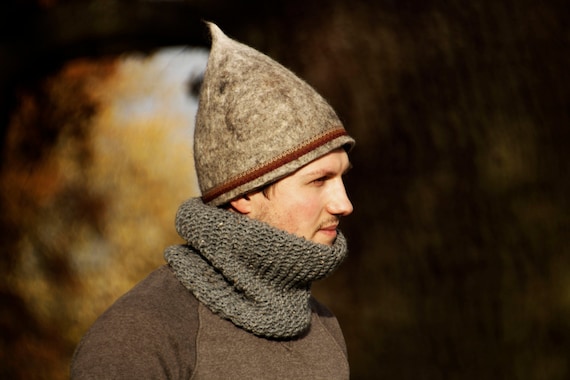 Oarsman #3
This oarsman seems much richer, with a surcoat and a nicely decorated cape.
The hat was a quite interesting mystery, i tried to go with an stiff brim, inspired by the almost square shape of the lower half of the cap.
This oarsman has the clearest cutoff between the arm and torso, so i went with a surcoat, inspired by drawings of kievan rus. It is lined with sheeps fur.
The cape is a shorter then most others, it is one of the most clear detail on the drawing.
Under the surcoat is a linen tunic, quite standard.
the trousers are quite tight with leg wrappings.
Shoes are standard.
Oarsman #4
This man is likely poorer then the rest, wearing a coarse wadmal vest, lined with red wool.
His undertunic is short and from woad-blue wool.
The trousers are also from home-woven coarse wadmal, later processed and stamped in the water mills of the river running. The wrapped bands are to make it easier to take on and off high boots.
The hat is similar to one of the ones i posted, from wool and decorated with bands. a short tassle is at the end of it.
I will be continuing this post on Monday, and draw the other men. But meanwhile please discuss and give me some feedback.