I'm hoping someone in the north woods can help me out with this request.
My attempts to contract with a history-craftsman buddy to procure materials for a 'honey-horn' seem to have fallen through, when I happened across
this handy little tutorial
(Jon's bushcraft site is an excellent resource for everyone here, if you haven't checked it out before.
So I'm thinking about making a couple of these containers for crystallized honey, tea-brewing herbs, &c.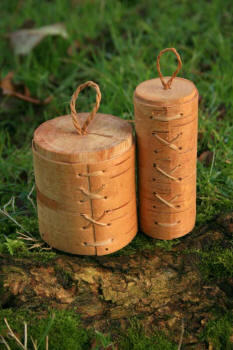 Unfortunately, my stock of high-quality birchbark suitable for this kind of crafting is severely limited. I have bags and bags of smaller pieces to be cooked into birch-oil, but no more wide strips for making containers...and my original source (offgrid with no phone, in Michigan's U.P.) is pretty impossible to contact.
Anyone up North who can help hook me up with some sturdy, wide, white birch bark? I'm fine with $, or barter if you're interested.
Thanks!